Mystical Fire



Mystical Fire is a unique new product that will add hours of enjoyment to any solid fuel fire! It's the best thing since toasting marshmallows! Everyone who enjoys a fire indoors and out, whether a camp fire, a garden fire pit brazier or Chimenea will love Mystical Fire. Turn any fire into a show of vibrant blue, green, purple and red, you name the colour, it's there.
Delight your family, mystify your friends - Mystical Fire.

Mystical Fire provides hours of entertainment for all.
Simply throw the entire pack into your fire and watch the transformation.
Each pack will provide over half an hour of vivid entertainment.
Use more than one sachet to increase intensity and on large fires to ensure the effect reaches throughout.

Mystical Fire is a safe fun product for family entertainment, simply throw an unopened sachet onto any real fire, wood burning stove, barbeque or chimenea and within seconds the flames start to contain vivid flickering colours, over time the colours change and the result is as entertaining as TV.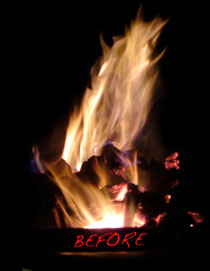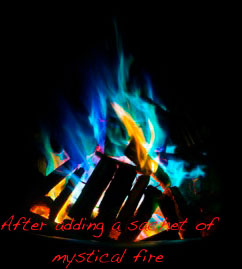 See images of a fire before and after adding a sachet of Mystical Fire
See below a youtube video of Mystical Fire in action

Mystical fire is suitable for all real fire types including wood burning stoves, coal, smokeless fuel and paper indoor fires, barbeques (after cooking only) fire pits, bonfires, chimenea and any other real fire type.
Note: not suitable for gas or electric type fires or for cooking fires including Aga/Rayburn style cookers.