Need fireworks tonight?
Why not visit our shop, it is open all year.
Whoosh Fireworks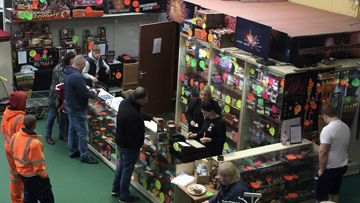 WHOOSH FIREWORKS ARE LOOKING FOR NEW PREMISES !! WATCH THIS SPACE !!
Tel: 07747487170 lisa
Email: lisa-yorkshirefireworks@hotmail.com
Our fireworks are available all year.
More about us
Whoosh Fireworks are a specialist family oriented fireworks retailer, offer fireworks for sale all year round we have been established for many years.

We specialise in high quality fireworks from many manufacturers including low noise fireworks for younger audiences.

Our range of fireworks is second to none with a huge selection of the best from six different major manufacturers on offer, including Royal Party, Golden Lion, Sovereign and Cosmic.

In addition we offer expert advice in store between mid-October and Bonfire night and again on the run up to New Years Eve, so, please feel free to come and see us.

We also offer safety advice, history of the gunpowder plot of 1605 and recipes for that perfect Yorkshire fireworks party.