Yorkshire Style Recipes for Bonfire Parties
Rockets, Roman candles, sparklers, a blazing bonfire... and warming food: all the ingredients of a great celebration.

Successful bonfire parties need food, here are some suggestions for warming items which should go down a treat.
Invite another family or a few friends round to celebrate bonfire night and get them to help with the cooking as well. Most items can all be made in advance, will travel well and can be reheated if needed.

Bonfire Pie & Peas

A traditional outdoor food from the north of England, very satisfying on a cold evening round a fire,
Ingredients:
Top quality individual pork pies
Mushy peas
Onion
Vinegar
Mint sauce
Preparation:
• Heat the oven to 200C/400F/Gas 6.
• Heat the pork pies until warmed through
• Heat the mushy peas until warmed through
• Slice onion into small pieces and soak in vinegar
Serve the pies hot in a bowl, cover the pie with mushy peas, serve with a spoon.
Serve with mint sauce and onions in vinegar to add to taste.

November Roast Chestnuts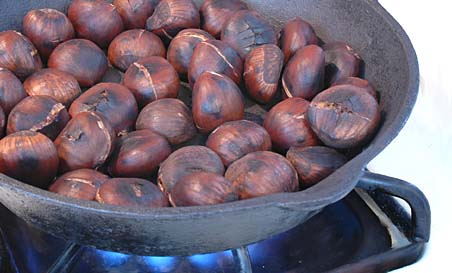 Fantastic sweet and hot this is a food which might be done in the bonfire, however the oven is better.
Chestnuts come into the shops just in time for Bonfire Night, and a bag of roast chestnuts is a great hand-warmer.
Ingredients:
1kg/2¼lb chestnuts

Preparation:
• Heat the oven to 200C/400F/Gas 6.
• Slit the top of each nut open with a sharp knife (this will make peeling them easier.
• Put in a roasting tin and bake until the skins open and the insides are tender - about 30-40 minutes.

Alternatively: Chestnuts will cook in the microwave, don't forget to pierce them! As a guide, a dozen chestnuts will cook in about 2 minutes at 700watts.
Bonfire Baked Tatties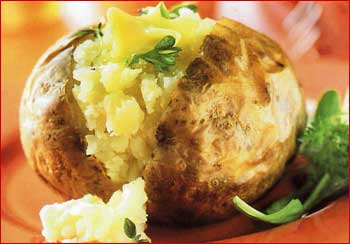 Traditionally done in the bonfire embers but much safer and cleaner in the oven or the microwave.

Ingredients:
Tatties.
Tasty Fillings

Preparation:
• Choose good sized smooth-skinned tatties.
• Scrub well in cold water
• Bake at 400 F for about an hour, or as appropriate for your microwave setting.
Fillings: butter, cheese & chopped bacon, baked beans, cottage cheese & chives, salsa, chopped tomatoes & basil, chilli con carni, tuna & mayonaise
Warming Garlic Bread (tasty but make sure you BOTH eat some!)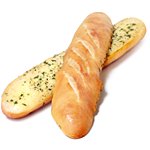 Not one to try on the bonfire, but a winner non the less,
Ingredients:
¼lb butter
French Bread or similar
Garlic

Preparation:
• Heat the oven to 200C/400F/Gas 6.
• Grind or crush approx 2 cloves of garlic and mix with ¼lb butter
• Spread the butter/garlic mix onto the bread
• Put in the oven bake until heated through.
Bonfire Plot Toffee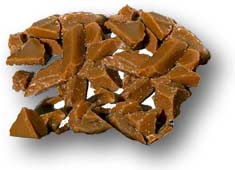 A sticky treat - eat fresh from the baking tray.

Ingredients:
1 lb sugar, preferably Demerera
1/3 pint water
1 ¼ ozs butter
2 level tablespoons golden syrup
1 teaspoon vinegar

Preparation:
• Place all the ingredients into a strong saucepan and stir over a steady heat until the sugar has dissolved.
• Bring to the boil and cook slowly.
• To test for consistency stage drop about half a teaspoon of the mixture into a cup of cold water, if it sets hard then it is done, if still soft and chewy cook for a little longer and test again.
• Pour into oiled or buttered tin and either allow to set as a slab or mark in squared as toffee becomes partially set.
• Break when completely set.
For variety use black treacle instead of golden syrup or add peanuts or chopped mixed nuts.
Bonfire Plot Toffee Apples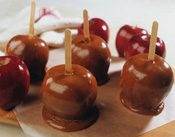 Ingredients:
6 sweet and crunchy apples
6 tbsp caster sugar
85ml water
600g demerara sugar
100g unsalted butter
2 tsp vinegar
2 tsp vanilla essence

Preparation:
• Wash and dry the apples, remove the stalks, and push in a lollipop stick.
• Place all the ingredients in a heavy-based pan and bring to the boil. Cooking time is approximately 30 minutes. If you have a sugar thermometer it should read 150C or 300F, or you can test by dripping into a bowl of cold water. The toffee is ready when drops harden.
• Dip each apple into the toffee, remove and air-cool a few seconds then repeat until thickly coated.
• Dip into a bowl of cold water and place on sugar-dusted tray until cool.
Yorkshire Parkin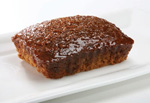 an oatmeal and ginger cake from the Yorkshire.
Ingredients:
1½ lb oatmeal
1 teaspoon ground ginger
8 oz brown sugar
8 oz butter
1 lb treacle
1 teaspoonful allspice
Preparation:
• Mix the dry ingredients .
• Heat treacle and butter; add to the dry mixture and leave to stand overnight. Place in a well-greased shallow baking tin and bake in a moderate oven for about 2 hours.
• It is done when the parkin springs back when touched.