Bonfire Drinks
Drinks Recipes
The person responsible for lighting fireworks should not consume alcohol.

Whoosh Fireworks have reviewed the following recipes which are a bit different and in our opinion help your party to keep going (even in the cold): ~

Mulled Wine

Ingredients
1/4 cup Brandy
1 cup Sugar
2 sticks Cinnamon
3 cups Water
12 Clove Add It
Lemon Peel
750 ml Red Wine

Directions
Simmer water with, sugar, cloves, cinnamon sticks, and peel of one lemon in a stainless steel pot for 10 minutes. Pour in the wine, heat to a "coffee temperature" (do not boil) and add brandy.
Winter Wine

Ingredients
2 oz Cognac
1 pinch Cinnamon
2 oz Water
1 tbsp Honey
35 cl Red Wine

Directions
Heat in a small saucepan and pour into heat-proof cups just before boiling. Add a slice of lemon to each cup, and serve.
Red Wine Punch

Ingredients
2 oz Oranges
1 part Soda Water
3 tbsp Powdered Sugar
2 parts Red Wine

Directions
Mix large parts of icing sugar with red wine in a punch bowl, and stir well. Add the soda, plenty of ice, and drop in a few orange (or lemon) slices. Serve in a punch bowl for all to enjoy.
Gluhwein (recipe for 10 persons)
Take a leaf from the Germans and enjoy this traditional drink.
Simmer gently for 30 seconds and strain into a heat-proof goblet.
Beer Suggestions
Morocco Ale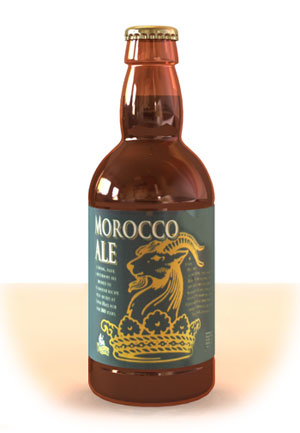 Imagine the body of a fine red wine with spicy overtones, mellow autumn evenings and wholesome, traditional British food; imagine too, a flavoursome ale that's great to drink at any time.

Awards



2003: CAMRA* Great British Beer Festival Speciality Beers Section: Silver Award



1998: CAMRA* Great British Beer Festival Speciality Beers Section: Bronze Award
2005: CAMRA* Great British Beer Festival Speciality Beers Section: Bronze Award

Did You Know…?

Morocco Ale is brewed to a secret recipe from Levens Hall in Westmoreland first developed more than 300 years ago.

Morocco Ale was named by Colonel James Grahme of Levens - a courtier of King Charles II.

Morocco Ale has the distinction of being defined in the Oxford English Dictionary: "a kind of strong ale brewed at Levens Hall in Westmoreland"